More Fan Club news
A celebration of the Invasion project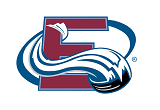 The Eurolanche Fan Club will already organize its tenth overseas trip.
Aside from last year's 10th anniversary celebration, there will be more to celebrate during the 11th season of the Eurolanche Fan Club – the tenth overseas trip of its members to Colorado under the name Eurolanche Invasion X. Participating in the trip, which will take place between February 24 and March 11, will be five Fan Club members from Slovakia, the Czech Republic and Finland. Together, they will attend seven game of the Colorado Avalanche, two of those being away games in Chicago and Columbus.
On the occasion of the jubilee tenth Eurolanche Invasion, a series of special articles about the history of the most unique project in entire Europe involving NHL fans will be published at Eurolanche.com. The aforementioned articles will also include memories its participants recalled after all these years, official, longer summaries, the most interesting photos and videos, as well as the history of the Invasion project itself and its detailed statistics. The Eurolanche Invasion X itself will be summed up in a standard recap following its conclusion, with articles about memories from the trip and other content being published throughout March and April.
On the occasion of the celebration of the Invasion project, a sole contest will be held, which will not only be available to members of the Yeti Ultras group, but to all Eurolanche members as well.
Basic information about the Eurolanche Invasion project, as well as information about the previous nine trips are available at Invasion.Eurolanche.com. If you're considering taking part in a future Invasion and have any questions, please send them to us via eurolanche@eurolanche.com. Registration will be made available at a later date and every Fan Club member, who provided his email address in the signup form, will be notified via the provided email address.
Since 2008, the Eurolanche Fan Club provided 54 of its members from 8 countries with the opportunity to travel to Colorado during its nine Invasions. Together, they've attended 56 Colorado Avalanche games, four of them being played away from the Pepsi Center.
Eurolanche.com
, Worldwide, eurolanche@eurolanche.com
10/01/2018 - 18:00
Discussion