More stories in English
O´Reilly is coming back to the USA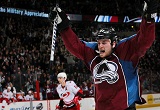 The former center of Colorado Avalanche has left the KHL.
KHL´s Metallurg Magnitogorsk has canceled the contract with Ryan O´Reilly by mutual agreement of both sides. Two issues caused this little unexpected decision at this time.
Firstly, O´Reilly suffered minor knee or leg injury on 10th January. He had missed two games and then played in the last two. Unfortunately, his health condition has got worse in the last game and he will need full recovery. Yes, it means he is still injured.
Secondly, he will continue the talks with the Colorado Avalanche.
Importantly, O´Reilly has not excluded the option of playing somewhere else in the foreign countries in February, if he does not reach a deal in the NHL.
O´Reilly signed a two year deal with Magnitogorsk in December 2012. The contract should include the clause which would allow him get back to the NHL in the case, if he did get the offer for the contract with the better financial conditions. It is believed he signed the deal in Russia for 4 million USD per year. He played in 12 games, scored 5 goals and added 5 assists.
Eurolanche will recap his short KHL career in the coming days. For now, do not miss our exclusive O´Reilly coverage and interviews from early January.
Source: The official team´s site
David Puchovsky
, Slovakia, eurolanche@eurolanche.com
24/01/2013 - 11:00
Comments
There are currently no comments for this article.

New comments
Landy... my favourite ... More in:
Denníky Duchenea a Landyho (1.)
ja osobne si myslim ze Columbus Blue Jackets niesu tym timom od ktoreho by sme sa mali inspirovat alebo vo vel... More in:
Čo nového u Avs? (4.)
no jo len mna zaujima nejaky zapas len ked tam mam nejaky oblubeny tim ako na ms slovensko a nhl colorado a na... More in:
Hokej je konečně zpět!
Já se na to teda těším, je to známka toho, že je hokej zpět a navíc o měsíc dříve než-li v jiných sezónách! a... More in:
Hokej je konečně zpět!
New articles