More Global Series stories
Bernier starts, Mironov replaces Zadorov
Jonathan Bernier will get the nod in goal tonight, while Andrei Mironov will replace his countryman Nikita Zadorov in the lineup.
During today's press conference, Avalanche head coach Jared Bednar confirmed that Jonathan Bernier will be between the pipes for tonight's NHL Global Series finale against the Senators. Bednar also said that rookie Andrei Mironov will replace fellow Russian defenseman Nikita Zadorov in the lineup, while the forward lines will remain unchanged. Samuel Girard, who impressed in his debut yesterday, will be once again paired up with Tyson Barrie despite spending some time paired with Erik Johnson during the game's second period. "I think they see the game similarly. They're a pair that we can hopefully start in the offensive zone. They move across the offensive blueline pretty well, they have good vision. I guess when you look at it, it might not be what you draw, you want an offensive guy with a defensive guy, but we liked Barberio with Johnson. For now, we want Girard to play enough minutes and the second pair is a good spot for him," said Bednar. He also added that he may again play several shifts with Johnson, but only due to Johnson's ice-time, which is why he sees a bunch of different partner throughout each game.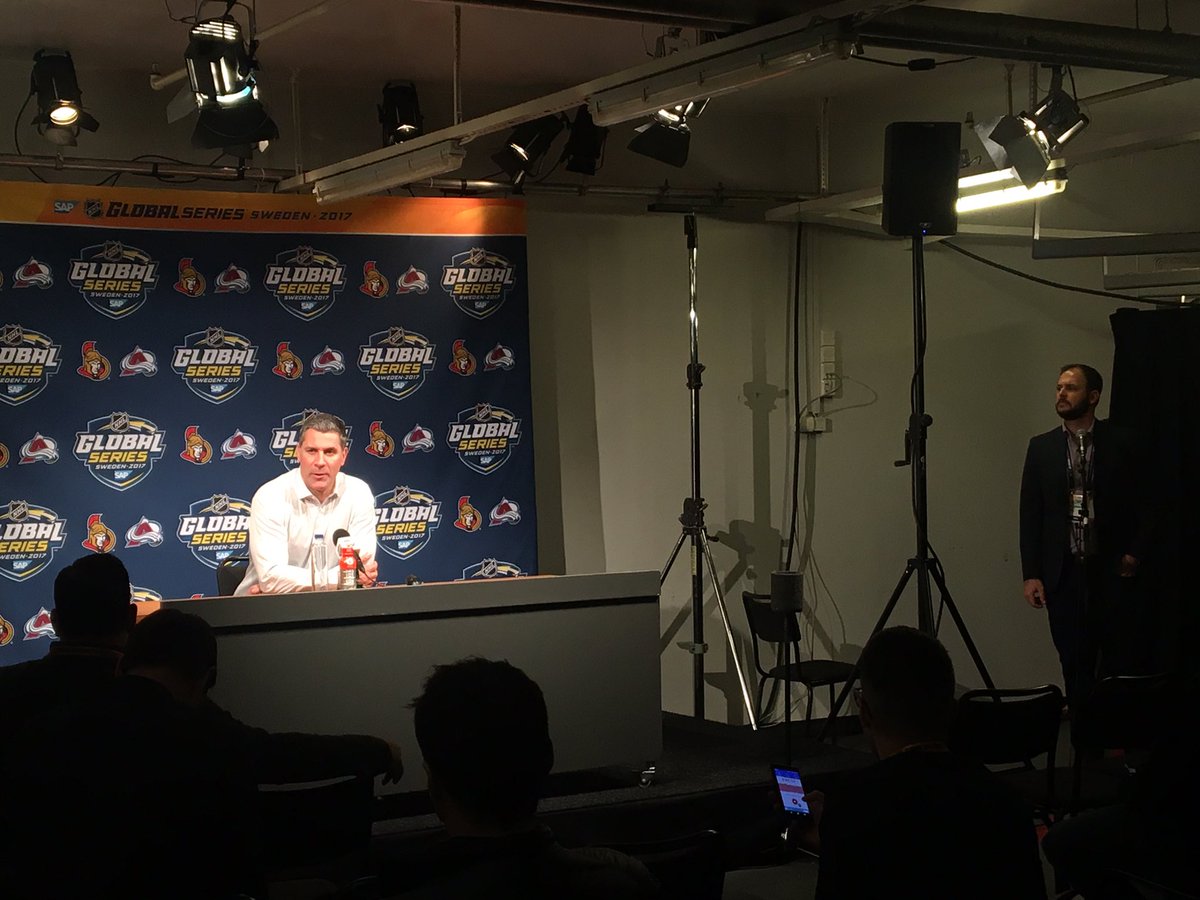 Bednar also said that Tyson Jost is close to coming off IR, but that his situation is complicated due to the team's schedule, as Colorado had a number of off-days, which is why Jost didn't get into a lot of 5-on-5 situations. According to Bednar, the coaching staff would like to see him practice game situations before getting him off of injured reserve. "We would like to get him into game situations, something which he couldn't in a non-contact jersey. He's still feeling it and we still have 13 healthy forwards," added Bednar. Jost practiced in a regular jersey for the second day in row and was joined by A.J. Greer, Rocco Grimaldi, Alex Kerfoot and Sven Andrighetto at today's optional game-day skate, as well as by defensemen Chris Bigras, Andrei Mironov, Nikita Zadorov and all three goalies. Bernier left the skate first, while Kerfoot and Andrighetto followed shortly after. Bigras and Mironov spent some time practicing cross-ice passes and one-timers before Bigras went off the ice too. Mironov and Grimaldi were the last players from today's lineup to go off the ice, as they practiced one-timers from different positions on goalie Semyon Varlamov.
Michal Hezely, the author of this article, was given media accreditation for the entire NHL Global Series and is reporting directly from Stockholm, Sweden.
Michal Hezely
, Slovakia, hezely@eurolanche.com
11/11/2017 - 13:30
Discussion