More stories in English
Kovalenko and Zhuravlyov claim bronze
Avalanche prospects Nikolai Kovalenko and Danila Zhuravlyov head home with a bronze medal following Russia's 5-2 win against Switzerland.
The 2019 IIHF World Junior Championship is in the books, with the bronze medal game and the finals both being played yesterday. Avalanche prospects Nikolai Kovalenko and Danila Zhuravlyov will head home with a bronze medal following Russia's 5-2 win against tournament surprise Switzerland, while Finland won gold in dramatic fashion, scoring the game-winning goal with less than two minutes left in regulation to beat the United States 3-2.
The Russians were aiming for bronze after a disappointing loss in the semifinals, getting off to a great start against the Swiss underdogs. Kirill Slepets opened the scoring less than five minutes in, before Nikita Shashkov doubled Russia's lead with a little over 6 minutes to go in the period. Switzerland wasn't ready to go down without a fight, though. The Swiss came flying out of the gates in the second period, with Valentin Nussbaumer cutting Russia's lead to one five minutes in. The Russians answered 8 minutes later, as team captain Klim Kostin restored their two-goal lead, before Yannick Bruschweiler got the game back within one less than three minutes later in what was probably one of the most intense scenes of the entire tournament. The Swiss kept pushing in an effort to tie the game, coming close on several occasions, but some bad puck luck and an extremely sharp Pyotr Kochetkov ultimately made the difference. Slepets put the game away after an odd-man rush following a neutral zone turnover in the dying seconds of Pavel Shen's double-minor 6 and a half minutes into the final frame, before sealing the win with an empty-netter to complete his hattrick little over two minutes left in regulation. The Russians redeemed themselves despite being outshot 36-24 and even outplayed at times.
The Russians celebrate their bronze medals, with Kovalenko sitting left of the trophy (Source: Minas Panagiotakis/HHOF-IIHF Images)
Nikolai Kovalenko had a pretty solid game despite being on the ice for one of Switzerland's two goals and finishing the game -1. Kovalenko looked like a ball of energy at times, with his smooth skating helping Russia gain or hold the zone on several occasions and earning praise from TSN's Ray Ferraro. Along with Pavel Shen and Stepan Starkov, the Avs' sixth-round pick formed a pretty formidable offensive punch, which created several good chances, but couldn't seem to get a goal. Kovalenko's best moments came against the Czechs back in the preliminary round, when he scored the game-winning goal on a shorthanded rush, and against Slovakia in the quarterfinals, when he assisted on two goals within two minutes. Kovalenko plays an entirely different game from his father Andrei, nicknamed "The Tank" for his hulking, immovable presence in front of the goal, but will still need to add some strength were he to come overseas. As of now, the Avalanche seem to have a solid prospect in the younger Kovalenko, who finished with a goal and 3 points in 6 games at his first World Juniors.
Kovalenko showcased his smooth skating and willingness to go to the dirty areas despite his smaller stature at the tournament (Source: Minas Panagiotakis/HHOF-IIHF Images)
Danila Zhuravlyov, on the other hand, still remains an enigma. Despite playing almost four minutes more than in the semifinals against the US, his 17:19 TOI still ranked as the second-lowest among all Russian defensemen. Zhuravlyov finished the game +1, but his usage was strange at best during the tournament, his playtime in the knockout rounds a far cry from his team-leading ice-time in Russia's opener against Denmark. Russian head coach Valeri Bragin seemed to prefer other defensemen, mostly in the latter stages of each game, and didn't count on Zhuravlyov on special teams either. The youngster projects to be a typical stay-at-home defenseman, as evident by his scoring output (a lone assist in 6 GP) and limited usage on occasion the Russians needed more offense. Nonetheless, his first World Juniors project to be a great learning experience for the 18-year-old, who, being born on April 8, 2000, will be eligible for next year's tournament as well.
Zhuravlyov projects to be a typical stay-at-home defenseman and could show his progress at next year's World Juniors (Source: Minas Panagiotakis/HHOF-IIHF Images)
All in all, this year's World Juniors weren't as eventful for Avalanche fans as those in the recent past, when the likes of Tyson Jost, Conor Timmins, Cale Makar and Mikko Rantanen all suited up for their countries at the tournament. The omission of Sampo Ranta from Finland's gold-winning team is unfortunate not only for him, but for both Avalanche brass and fans alike, as they missed the chance to evaluate last year's third-rounder on the top international stage in his age category, but could get it at next year's tournament, as just like Zhuravylov, Ranta will also be eligible to play.
Yesterday's results:
Russia - Switzerland 5:2 (2:0, 1:2, 2:0) [Nikolai Kovalenko and Danila Zhuravlyov both without points]
USA - Finland 2:3 (0:0, 0:1, 2:2)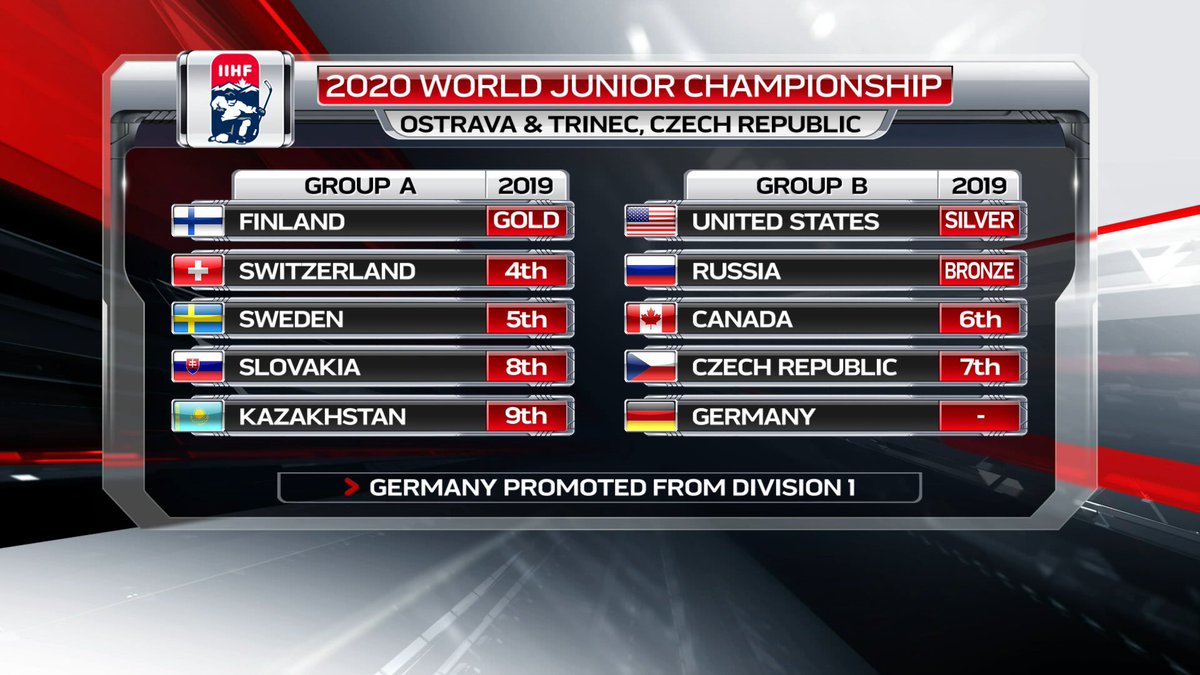 The scheduled groups for next year's World Juniors based on this year's final standings, with Germany replacing relegated Denmark in Division 1 (Source: TSN)
Which Avalanche prospect impressed the most at the tournament?
Martin Kaut
Shane Bowers
Nikolai Kovalenko
Danila Zhuravlyov
1 vote total
Michal Hezely
, Slovakia, hezely@eurolanche.com
06/01/2019 - 11:30
Discussion