More stories in English
Eurolanche talked with Ian Laperriere
Eurolanche fanclub brings you exclusive report on the former Avalanche player Ian Laperriere with his quotes.
Ian was the heart of every team where he played. He was tough and emotional guy who was willing to do everything for the win. Fans loved him not only because of his skills on the ice. He was the same class off the ice. Ian was always smiling on fans and has never refused requests for photos or signatures. True professional. So it was big shock for all fans when he left teams where he was adored. It was harder for Kings´ fans. They spent great eight years with Ian and suddenly he signed new contract with the Colorado Avalanche. "It was tough decision. I became free agent and negotiating were not doing well. I made decision to make a move. Avalanche had better contract offer. It was not easy, trust me," said Ian exclusively for Eurolanche.
After one year lockout, Ian was ready to contribute with his style to his new employer. Ian did not play anywhere while NHL season was canceled. But do not have worries. He trained all the time and maybe that was one of the reasons why he had his best season of career in the following year as an Av. "Some guys took it easy during the lockout and went on the vacations. I went the other way. I trained as hard as I have ever trained before. It was exciting to be in Colorado Avalanche. They were great players like Andrew Brunette or Joe Sakic. It is one of those years I will never forget," remember on his first season in Mile High City. And what about current possible lockout? "Anything is different than in 2004. Last time owners wanted new system. I do not think it is hard now like it was before. Players will have to give up little bit, owners will have to keep some stuff, but I am sure there is the deal to be done before September 15th."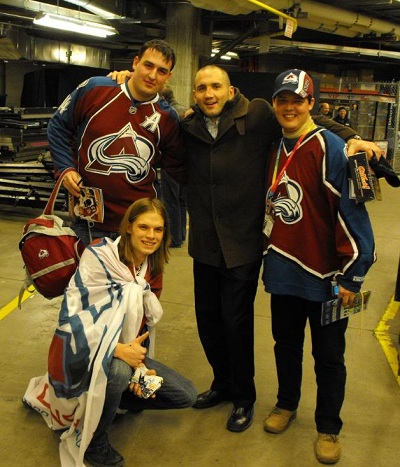 Ian Laperriere and David Puchovsky, Martin Polka from Slovakia and Martin Janeba from Czech Republic in the Pepsi Center after the game in 2008, Eurolanche Invasion I.
Jose Theodore, Sakic, Milan Hejduk, Rob Blake, Brunette, Marek Svatos and Peter Budaj were for Lappy great teammates and friends from the Avalanche roster. He stays in the touch with them in spite of there has been years when he played with them las time. Speaking about Sakic, Lappy continues: "I learned a lot from him. I was in my thirties but it did not matter. He is a superstar for reason. It is amazing how many hours he stayed in the gym to stay fit and flexible. That´s people did not see, but I did. It was honor and privilege played with him," said. Ian had good memories not only on Super Joe, but also on Blake too. They were teammates in L.A. and then re-joined in Denver. Blake became free agent in 2006 and left the team. "Blakie is a hall-of-famer. When you let guy like him go, it is hard. We missed him quite off on the ice and off the ice."
After four years in Colorado nobody expected Lappy would not be a part of the team for the following seasons. It all changed suddenly and he was away. Fans were shocked and sad. The warrior disappeared. "Negotiating was not the way I would like to go. The offered me less money than I was making year before for only one year. Flyers give me a raise and three more years. It was no brainer for me and my family. To be honest, it was only reason why left. It was kind of a slap in the face when they offer me less money," said Ian. He did not forget to add how he and his family loved their time in Colorado, but simply could not accept the new offer.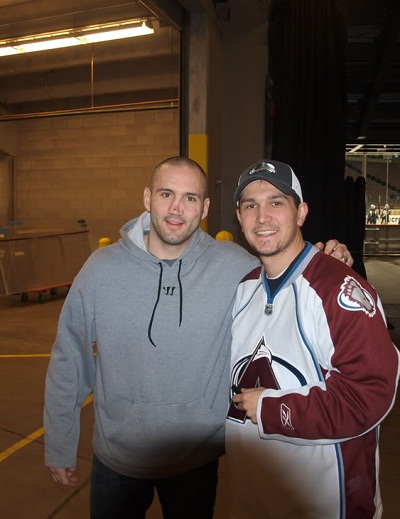 Norbert Gruber from Austria with Ian Laperriere after practice in the Pepsi Center in 2009, Eurolanche Invasion II.
Ian signed new contract with Philadelphia Flyers. You could not be surprise, if I would say you he has become all-time favorite player with a big heart. Unfortunately, his style of the play caused two big incidents. Firstly, he was hit by puck in November 2009. "The first one in November I took was really painful. I took it in the mouth and loose eight teeth. Blood everywhere," remembers on the moment when he also needed dozes of stitches. Lappy was back for the third period and did not miss a game due the big hit. Head coach was worrying about him more than himself. Second hit happened later in the same year in the playoffs. Lappy had to miss one series, but was back again. He absolutely does not think if this come back has an impact on his retirement. He just wanted to help the team won the Cup. That´s was his job. After two hits of the puck he had to miss two entire seasons in a row. Unimaginable length. "It is has been hard. I have never been fan of it (watching), I always been fan of playing. It happened to me in 36, it could happen in 26. I played way I wanted to, I did not change my game, I am proud," said for www.eurolanche.com.
One of the greatest team player all the time had to retire definitely this year. The second hit by puck damaged his nerve in right eye and caused another concussion of his career. "I still have some problems - blur vision. I feel pretty good. I work out every day. It could be worse I could lost my eye. I am very thankful for that," said Laperriere who has the hardest part of his career over him. The post-concussion syndrome causes moods swings what is never good for the family. Lappy´s was and is still strong. He is loved and loves them.
Ian Laperriere broke his nose probably 8-9 times and it has become his trademark. He even refused to wear shield because he did not take advantage of anybody. He lost many teeth, suffer different minors and majors injuries, but always stay the same person. "That´s a way I played. I did not regret anything," is his favorite kind of motto. Yes, Lappy, we could see it on the ice too. It was our pleasure to shout your name in the stands and watched you in the action. Thank you.
P.S.
Ian has stayed in the Flyers organization like the director of player development. He is satisfied and does not know if he will be coach in the future. And will he join the Avs sometime? "No (laugh). You never say never, but they have own group. They really rely on the Stanley Cup teammates like Stephane Yelle or all of those guys like Adam Foote."
Get signed hockey card or photo of Ian Laperriere for free and with the dedication! If you want it, contact us on eurolanche@eurolanche.com!
David Puchovsky
, Slovakia, eurolanche@eurolanche.com
29/08/2012 - 18:00
Discussion