More stories in English
Interview with Paul Stastny from Germany
Eurolanche fan club has received the exclusive interview from our German correspondent.
Philip Caspari is the reporter of the German website and weekly newspaper The Munich Eye, where is published news only in the English language for the international community living in Munich, Germany and the surrounding Bavarian region. Mostly the native English-speaking journalists work for the paper and the website. You can read more about The Munich Eye here. Philip met with Paul Stastny on Tuesday during the fan chat night in the lobby of one hotel and did the following interview for the Eurolanche fan club.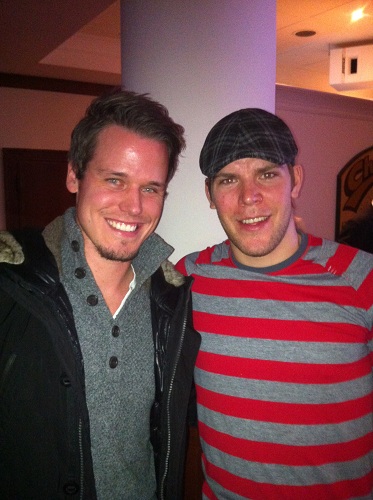 Phili Caspari and Paul Stastny.
What are your first impressions on Munich?
(drinking bavarian Weissbier) It is lovely city, one of the best in Europe. I visit Christmas markets and Downtown for 4-5 times a week to explore. There are bunch of good guy, fine young team.
How do you like parties with teammates?
Now too bad, because I missed out the Oktoberfest (the biggest beer festival in the world). But I'll be back for Oktoberfest 2013 (smiling).
What do you think about the local fans?
There are crazy! HUMBA! (player calls out H, U, M, B, A, then all fans burst into cheers, jump up and celebrate with team) I would suggest take this to the NHL, but NHL fans are not passionate enough to get involved in something similar. Fans in Europe are passionate; there is a lot more intense and energy. In the USA you play any other day.
What about the following game against Nuremberg Ice Tigers?
I am excited. It will be fun to play against my older brother and I will enjoy the opportunity as it does not happen too often these days.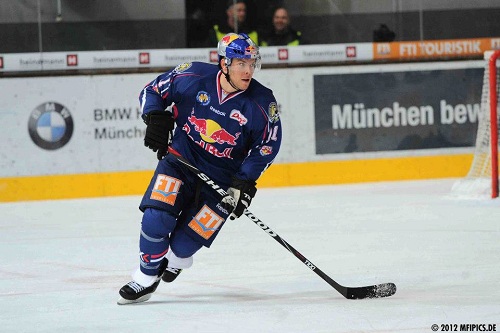 How many hockey sticks do you break per game?
I usually go through one stick a game, because I am a center and I take most face offs. In the USA, I sometimes use up to three sticks a game.
What do you like most in Europe and what do you miss most from the USA?
I get used to be in Europe. My family comes from Europe and I spent a lot of time here. I miss my TV and TV shows, the comfort at my own home. It´s just the little things, the rest are easy to adopt.
Did you have offers from other European teams and what made you decide to join to Munich?
Same agent as Wheeler´s has heard the best about EHC Red Bull. It is excited to play hockey in Europe. I came here to play with Wheeler, looking for players that I can play well with, happy to be here.
When do you personally think the NHL will return? Do you think it is possible that the entire season will be cancelled?
Next date set for the NHL to return is Dec 14th, would be great to be back home especially for Christmas but not stressed. I focus on EHC at the moment.
Message from Stastny to Eurolanche: Paul says hi. He is happy to hear from you guys. He said you normally come to Colorado once every season and he's hoping to see you soon.
Stastny was the fourth player of the Colorado Avalanche who has signed a contract for the lockout period. He signed a deal with the team of the elite German league EHC Red Bull Munich. He has become very popular amongst the local fans and won the first five games. The lone loss came in the last game over the previous weekend. In six games, Stastny scored two goals and gained four assists.
Author of the interview: Philip Caspari
Do not miss other Eurolanche´s exclusive interview with the Colorado Avalanche former and current players, and prospects as well.

David Puchovsky
, Slovakia, eurolanche@eurolanche.com
05/12/2012 - 12:30
Discussion