More stories in English
Per Ledin talks about his (Avs) career
The exclusive interview with the former Colorado Avalanche and Lake Erie Monsters player.
The interview with Per Ledin was one of the greatest in my life. Per is a smart guy and you feel it in his answers. We could compare his personality to Ian Laperriere. He is a tough player on the ice, who can get points and behaves like the true professional off the ice with the smile on his face. When I had asked him for the interview via internet, I got the response almost immediately.
As Per wrote me, "it was destiny" that his Swedish team of HV 71 was scheduled to play in my hometown of Bratislava, Slovakia at the tournament called Red Bull Salute/European Trophy Tour >>> 32 teams of 7 European countries play games during the season and now the playoffs are held in Bratislava and in Austria.
Thanks to that I had a chance to meet Per in person. We spent together only something over 20 minutes, but it was the experience on which I will never forget. Finally, his team started the quarterfinal game very well, got under pressure the Finnish team of Tappara, but could not score more goals and thanks to one little mistake lost 1:2.
I would start with the couple of fun-related questions. You and your former teammate Emil Kaberg were called "The Bruise Brothers". What does it mean?
We played really tough and intensive. We were trying to get scoring chances from the skating a lot. I think the real The Bruise Brothers were Darcy Tucker and Shayne Corson in Toronto Maple Leafs. But it was very fun, because we won the national championship in 2006 in that time.
What represents the funny photo of you and Kaberg?
The opponent´s crowd was shouting at us that we are like a couple, that I was his girlfriend, so we turned it into the joke. After the publishing of this photo, they have stopped to shout on us.
What is your hockey style?
I try to play with emotions and speed. I would say I am not typical role model. I play both on the powerplays and penalty kills, with the pressure, forechecking and benefit of turnovers is the way how I get the scoring chances.
Do you like fighting in the game?
I had some fights in the minors, but I am not kind of that tough guy. We have different rules in Sweden. You are not allowed to fight, because you could get the suspension for that. A lot of guys which dropped the gloves used to get suspension for 2-3 games and are fined. Of course you want to be on the ice. It has no sense to drop gloves and sit out for four games. It is totally different style in the USA.
Are not you missing fights in Europe?
It would help to take away cheap penalties like slashing. It had been discussed in Sweden for many years. They do not really care about that. Sweden is against fighting.
Your most memorable fight?
I cannot say which was the biggest. I had just couple of scrums, not really fight (in the elite league). You hit a one guy and get 25 penalty minutes. Back in the States you have fights three times and then are kicked out.
You have never been drafted in the NHL. Did you expect that?
When I was growing up I did not play at the international tournaments with the national team. That´s the way you have to go through to be drafted. I just worked hard and followed my dreams. My dreams come true when I signed with the Avs and I could play with them. It is great memory.
You first North American experience were 27 played-games in the ECHL. Why did you leave so soon?
I was 21 years old. I went there because I wanted to try the North American style. Later, I got the offer from my hometown team to play in the Swedish elite league. When you are growing up as the player, you always have three dreams: playing for the hometown team, play on the national team and of course in the NHL. My biggest dream in that moment was the playing with my hometown.
You spent eight years between 2000 and 2008 playing for three different Swedish teams. What was your biggest success in this time span?
I won the championship for three times, unbelievable memories. First time, when you win gold medal, it is like you do not know what happens, you are a rookie. For the second time, you are more relaxed and you can enjoy it more. For the third time, you really feel how it is and realized how it is to be a champion.
You very first contract in the NHL was with Columbus Blue Jackets, but was not approved due some errors. Can you explain it?
I got the offer from Blue Jackets and signed. But the IIHF said I was under two contracts, because I was playing for the Färjestad. You have to be free agent. They turned it out and I stayed in Sweden.
You signed the contract with Colorado Avalanche in 2008. What were your expectations from your first NHL season?
I chose between three teams. I felt that Avs know exactly, where they supposed to use me. They knew I can play powerplay and shortened as well. I just knew I was so closed to my dream and wanted to work hard for it.
Were you disappointed when you did not play in the NHL almost for the whole year? How it was in the AHL?
The AHL is the toughest league for the playing. You really have to focus to find how to win a game. It is really educating. Does not mater, if you are young or old. It s hard, but you have to go through that. Of course when you are sent down you are disappointed, but I tried to keep on the learning of the experiences and work hard. After one month in the minors, I unfortunately broke my foot while blocking the shot. It took me out for almost 10-11 weeks to return. I came back in the middle of January and realized it would be even tougher to get to the Avalanche team.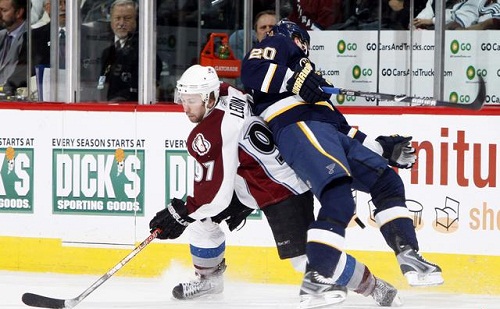 What are your memories on your three games in the Avalanche uniform?
Wow, I think we play in Chicago in the minors and coach called me. Firstly, I thought I was in trouble. He said "Congratulation buddy, you going up". Then I came up and it was best memories. Stay on the ice and feel the atmosphere, met all the players… Totally unbelievable. Unfortunately it was only three games left in the season. My biggest goal was to play in the NHL, so whenever I retired I will always feel that I had jersey with my name on and played in the NHL.
Did you get new offer from the Avalanche or other NHL team after that season?
Probably I could sign two-way contract. It was rough year for my family. The traveling with three kids… The decision was to come back to Sweden and see what is going to happen. It was a family decision. We did not even look at other NHL teams. When I was going home, they (the Avalanche) did not say anything. Even not how my games looked... Just cleared out the organization. I did not hear anything.
So there were no talks between you and the Avalanche management?
Nothing. I think if I would be called up earlier I could show more.
After your contract expired you told to Denver Post this about Colorado Avalanche: "They fired six people in the staff after the season and the team was out of the play off race with 20 games to go. That says more about their performance than mine."
When I picked Colorado, I thought they really knew exactly how to use me as the player. Firstly, they sent me down. I did not have a problem with that. It was tough to play there. But I think I deserved to play more. For me, it has never been about playing for the money, it has been about playing for the pride and the NHL. I felt really disappointed that I did not play more.
Since the Avs were not winning I though they were going to send down some players. But they have never changed it. If you are losing you try other players. For me the playing is about winning. That´s was big disappointed. I had big expectations.
Maybe that comment was kind of take of the context. Swedish newspaper take information out of the context. They do not write like you. When you talk to newspaper in Sweden, you have to be careful, because they are looking for something to make headline. You have to use disciplined language.
The Avs cleaned the organization and probably knew where to go. I felt really pumped. I think I played very well. But look at back it was fantastic moment and I am really glad I had chance to play there. I met so many nice guys.
You favorite teammates from the AHL/NHL?
Matt Hendricks was a guy with whom I hang out most often. Great guy. He was even Santa Claus for my kids. I am not surprise at all that he plays really good in Washington Capitals.
How are you doing now?
We are doing great. We are tied in the league for the first time. I am not satisfied with my game so far. I have to pick my game up. We haven´t score as much as you want to do. I love hockey. I feel like I want to play 10 more years. Work hard be determined and be ready. Just follow my dreams.
Per Ledin was born in 1978 and spent the majority of his career in the Swedish elite league. He has never been drafted in the NHL. He played 27 games in the ECHL in 2000, but has come back soon home. Before signing his first NHL deal in 2008, he has won the national championships for two times (the third came in 2010) for two different teams. His second North American experience, now with the Lake Erie Monsters and the Colorado Avalanche, lasted for one year. He played in three NHL games with no point, just two penalty minutes. In 549 games in Sweden, he gains 218 points and 1015 minutes. He is well known for his tough style, a sense of humor and perfect behavior to his fans. Follow him on Twitter here.
David Puchovsky
, Slovakia, eurolanche@eurolanche.com
14/12/2012 - 03:00
Discussion