More stories in English
O´Reilly: Second interview and more photos
The second part of the exclusive interview with the former Colorado Avalanche center with the report of the game and more photos inside.
Ryan O´Reilly played a game for his Metallurg Magnitogorsk of the KHL in Bratislava, Slovakia, Central Europe, on Sunday´s evening. He faced the local team of HC Slovan Bratislava. Magnitogorsk is currently the best KHL team, but it was not a winning game for them. They got Slovan under pressure, but were stopped by great goalie Jaroslav Janus, a member of the Tampa Bay Lightning organization.
Slovan was being outshouted by Metallurg during the whole game, but could score two power play goals in the first period. It looked like the score would stay unchanged heading to the third frame, but phenomenal Evgeni Malkin scored the first goal of his team in the last minute of the second period and assisted on the tying goal few seconds later.
With two goals in the pocket, Magnigotorsk started the third part of the game in the big style. But two consecutive penalty kills helped their opponent and surprisingly Slovan took a lead again. The author of the goal was Libor Hudacek. He also scored the second tally of Slovan and assisted on the first too. Malkin did not stop to try to tie a game again. He was the best player of Magnitogorsk and finally tied it less than 12 minutes left to the period, when he passed the puck to Sergei Mozyakin. It was his second goal of the game.
Overtime did not change a score. Slovan was successful in the shootouts and won 4:3 overall. In spite of O´Reilly missed his attempt, he played very solid game – both offensively and defensively. He played hard, fight for every inch of the ice and did not forget to help his teammates in his own zone.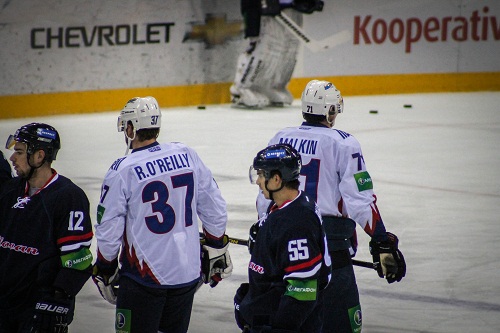 For more information about the Avalanche future of O´Reilly, do not miss the following stories:
Post-game interview with Ryan O´Reilly
You got your opponent under the pressure, but could not score a goal in three straight powerplays. Where was the problem?
I think we played pretty game, but powerplays were not where we needed to be. They played good at own end. They are not maybe big offensive team, but defensively they played really hard.
They scored all their goals on the powerplays. That is not good.
Not. Definitely if we were stopped one of those it would be different game. They shot the puck, got in the net. That is how they scored goals. Better against the teams like that we have to make sure be better on the penalty kill.
You were hit hardly twice. Everything ok?
Yeah, I feel fine. I got couple of bruises, but I feel good and excited for the next game.
How about your shootout attempt?
I thought I had to move and I definitely wanted to come down and shot high. The puck just rolled a bit. It happens.
How did you like the atmosphere?
Great atmosphere. One of the best. Fans are so involved. Definitely it is great experience. It is great arena.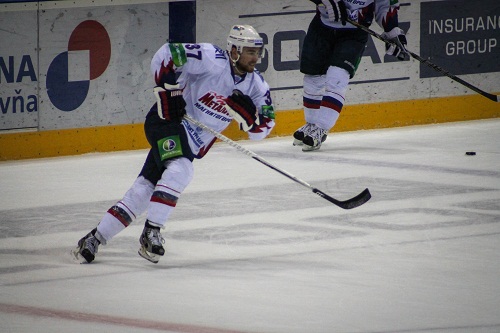 When and how did you learn about the end of the lockout?
I find it out before my pre-game nap today. Definitely it is great news for the NHL.
Has been there some contact with your agent yet?
It is a game day so I was pretty busy. But I will call to agent and get involved what is going on.
What about your further plans?
I will probably play next game. There will be some changes. I am part of the team now.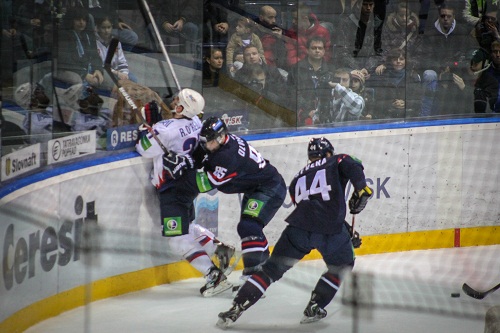 Questions asked by O´Reilly´s fans via Eurolanche
How it was played against Varlamov?
It was great. He did not in get until the third period. He is great goaltender. I would rather have on my team (laugh).
What did you told him at the end of the game?
We talked a little bit. We talked how different is Russia from Denver. He is from that city, he is happy to home playing. He is excited for the season got again. He definitely likes play in the NHL.
Which Avalanche teammates would you like to see again?
All of them! We have great relationship with those guys. It would be great to see those guys again.
What do you think about the game between Slovakia and Canada from the last world championship, when Getzlaf´s penalty helped to Slovaks to win a game?
You are happy about that (laughing). It was broken play. He was cut in the wrong situation. He is one of the best players of the game. He called for bad penalty. It could happen to any other guy on the team. It was very unique game. We played very well. Slovaks played excellent game. It was all of us could provide extra jump we needed to put Slovaks away when he had a lead. Every guy on the team knows, we needed to be better, shut them out. It was unfortunate loss. It was exciting over there. We lost as the team.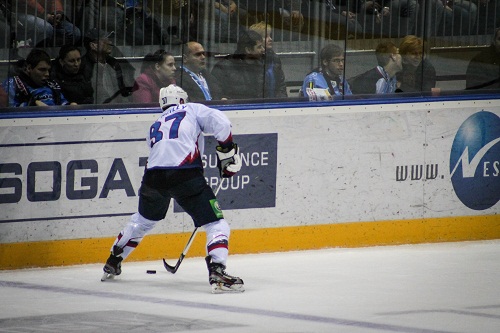 How did you spend Christmas and New Year´s party?
Christmas: Watching TV shows on my laptop. I Skype with my parents. Glad to see them was nice. It was nothing special. I have been away for Christmas for last couple two years, so kind matured for being missing a home. New Year: We had a nice dinner and celebrated with each other.
Favorite book, food, movie and car?
Peaceful Warrior by Dan Millman. Great book focused on training.
I really like Italian food. I love pasta. I am big fan my mom´s cook. She is great cook.
I saw the new Batman couple days ago and it was phenomenal. My favorite character is Tom Hardy and he was amazing in that movie.
I have Porsche Panamera. It is pretty sweet, but I just saw new Porsche Panamera Turismo in the magazine. Something I would like to have one day.
David Puchovsky
, Slovakia, eurolanche@eurolanche.com
06/01/2013 - 23:30
Discussion