More stories in English
Preseason interview with Jan Hejda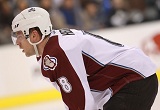 Eurolanche fan club did an interview with Jan Hejda, the Colorado Avalanche defensemen.
How did you spend the lockout period?
We stayed here (in Denver). I was thinking about to go or not go somewhere in Europe. I had a deal with my agent (I was moving deadlines) if the season would not start in January, I will go somewhere. But it has started, thanks God, so I did not have to go somewhere.
You told us in last summer your deadline for the decision would be November. Why did you change it?
I do not know. It was nice here (laugh). I did not want to go anywhere. I thought I would go to Czech Republic or somewhere else in Europe. The insurance would be high. I was not in hurry and then I was moving deadlines. I was waiting for the start of the season. It had seemed it was going to start soon.
What about your potential teams if the lockout would continue?
Chomutov of the Czech hockey league contacted me at the start of the season. I want to thank them for an interest. Another local team of Slavia Prague contacted me at the start of December. We had a deal we would talk to each other in January.
Did you practice with your teammates during the lockout?
We had a practice three times per week at the ice and some work out. We had not some kind of longer relax. We had been on the ice regularly. There were 10-15 guys for the start, but then some were to home or to Europe. Then there were a few of us. It was worst during the Christmas. Almost everyone was off. Only five skaters and two goalies stayed. It was not good.
How the communication with the team and the whole situation did look like after the end of the lockout?
We had a practice on Monday (7th January) at Denver University with the players who came back when the NHL and NHLPA agreed on the new CBA. There were more guys, but for sure not even a half of the roster. Then on Tuesday, we had a practice at the Family Sports Center. We could use our training stadium and everything around. On Wednesday there were full roster. We could speak to coaches, but they still could not be on the ice. It was coming back to old path.
What do you think about 48-game schedule?
Unfortunately, the season is shorter. We have to go thru it in spite of it will not be ideal. But thanks God we could play some games. We have to make 15-16 games per month. Everyone talks it will be much, but we are happy we have a chance to start, because they agreed on new CBA five minutes before 12. My opinion is that a man will honor the hockey more. Eight months without games… I honor it very much that I have a possibility to continue in the career.
With which defenseman would you like to start the season in the pair?
I would like to start with O´Byrne – we finished together last season. After the searching of partners we fit in each other. I hope it will stay the same in spite of there will be some changes in the defensive pairs. I hope it was good in the last season and we stay together.
What will be a goal for the team?
For sure we will want to go as far as possible. I was looking on our guys and was thinking that there were not many changes on the roster. But when I realized how the roster looked like at the start of the last season, I found out it is definitely better like last year. I hope the results will be better. I want to stay on earth, but I think we should make the playoffs.
Finally, Jan shared his view on Ryan O´Reilly.
I hope they will get him back. He was important part of this team. It would be a shame. He is good player and mainly a person.
David Puchovsky
, Slovakia, eurolanche@eurolanche.com
18/01/2013 - 18:00
Discussion