More stories in English
EXCLUSIVE INTERVIEW WITH SETH JONES
Eurolanche fan club is presenting you one of the most exclusive interviews ever. An interview with possible number 1 pick of the upcoming draft: Seth Jones.
Draft lottery is about to start within a couple of hours. Colorado Avalanche finished on 29th place in NHL overall. They have 18.8% chance that they will be the first team to pick. The biggest mathematical chance has the last team of past season with 25%; which is Florida Panthers. Chances however lay with teams that didn't make it to the play-offs as well. But percentages are dropping down with them. Anyway, worst case scenario; Avs will pick from 3rd position. Draft lottery will be broadcasted tonight at 2:00 AM CET and we will bring you an on-line broadcast on our Eurolanche Chat.
And now your biggest temptation is surely an interview with Seth Jones. This robust defender is considered to be the new King of defense in NHL. Experts agree that he is one of the most talented defendersof the last decade. The team that will be lucky enough to pick him will have a very solid defender for coming years. Jones has been the biggest candidate to be nr. 1 pick in the upcoming draft for a long time. That is why tonight´s lottery is extremely important for Avalanche. There are rumors however that if Avs will not win in lottery the right to pick as first team, there might be some trades happening in order to get 1st pick to Avs. That big importance has Seth Jones.
Eurolanche fan club got in touch with him and to our members and fans; we are bringing an exclusive interview not only about his career and about the upcoming draft, but also about his childhood in Denver. His father, former player of NBA club from Denver, has even met with Joe Sakic. Currently Joneses junior team (Portland Winterhawks) got into the final of WHL. From 15 games of play-off, Jones gathered 13 points.
What were your first years like as a hockey player?
Well I took ice-skating lessons for an entire year when I was 5 years old. Before I really started playing the game, I was pretty interested in that at that time and I just wanted to learn how to skate, get the basics you know, do the hard work first and that is how I started playing.
How did growing up in Denver and going to the Avalanche games influence you?
Well they were obviously pretty good back then, they won the Stanley Cup in 2001 and I was lucky enough to be at game 7 when they won Stanley Cup against the Devils. There were a bunch of great players: Bourque, Sakic, Roy. Lot of hall of famers so I just was watching them and they were a special team that year.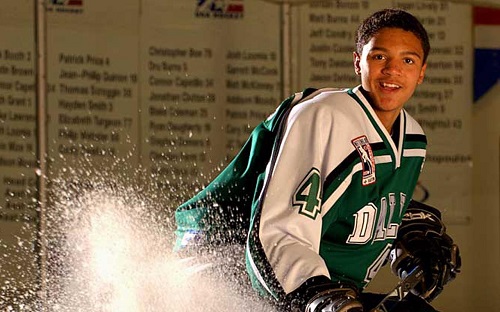 What were your favorite NHL team and player when you were growing up?
Favorite NHL team was a rival of Colorado, which is funny; the Red Wings. My favorite player was Nicklas Lidstrom. I love how he played the game, how smooth and scary he was in his decision making which was always very simple and good.
What are your strengths and weaknesses as a player?
I think my strengths are my skating ability and I think I have a pretty good shot from the point and I can find my way and skate through. I think I can make a first good pass into the D-zone. Some weaknesses of mine; I just try to keep it simple sometimes you know, pick up my spots and jump up on a player whenever, just be a little bit more patient with that.
What was it like playing for the US national team program?
It was unbelievable, they had a great program there they definitely helped me and you know the success I have today and my development on and off the ice.
What is your best memory of your hockey career so far?
Winning the under 20 world championships in Russia, this past Christmas.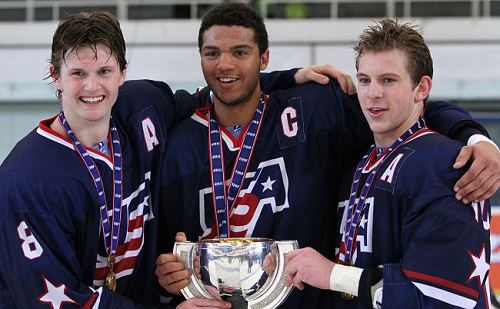 What does it mean to you to be named as the top NHL prospect in the NHL draft?
It means a lot to be put in this special category. Lot of people trying to be in that spot at the same time. Lot of people working out and trying to be better than you and take your spot.
How are you preparing for the NHL draft?
I am just working hard every day, just trying to obviously finish our season strong and that is my main focus right now.
And how do you think are your team's chances in finals this year?
Great, I feel very confident with the team we have here and the team that our coach put together. Right from the training camp I knew we had a special team this year so I am just trying to whatever I can to help this team win.
Audio transcript by Jan Stastny
Sources of photos: ca.sports.yahoo.com, thehockeywriters.com, nytimes.com, ebony.com, sportsinnercity.com
Czech and slovak translations of all exclusive interviews with current or former members of Avalanche organization done by Eurolanche fan club can be found here.
David Puchovsky
, Slovakia, eurolanche@eurolanche.com
01/05/2013 - 21:59
Discussion