More stories in English
Interview with the Avs scout Joni Lehto
Eurolanche did an exclusive interview with the scout of the Colorado Avalanche.
Joni Lehto, born in 1970 in Finland, works for the Colorado Avalanche as a scout since 1999. He spent his junior years in the OHL, then played next 3 seasons in the AHL, ECHL and IHL, and finally came back to Europe where he spent his last 4 seasons of a career playing in Finland, Sweden and Germany. Joni, a defensive player, was drafted of the 111th place on the NHL Entry Draft 1990 by New York Islanders, but has never played in the NHL. His professional hockey career lasted "only" 7 seasons. The major success of his hockey-related jobs came after 1999. And still lasts.
When did you become the Avalanche scout?
I stopped playing pro-hockey after the season 1997-98. I had two operations of my shoulder and after that I made my mind that "it is over now ". So in 1999 spring I had an interview in Helsinki with Brian McDonald (ex-Avs head scout was in Helsinki at that time). He called me and wanted to meet with me. Brian had called to my brother Petteri Lehto (who lives in Ottawa and is a hockey agent) that Avalanche is looking for someone in Europe. My brother told him that "Yeah, I have somebody – my brother just had to stop playing hockey". So after two days with Brian, he offered me a job with Colorado. Since 1999, I have been with the team.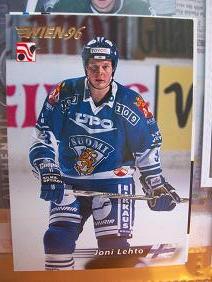 Joni Lehto as a player on the card of the well-known series Wien ´96.
What did you do before joining the Avalanche?
I played professional hockey with Islanders´ farm team for 3 years and then pro-hockey for other 4 years in Europe (Finland, Sweden, Germany). After I was done with the hockey as a player, I worked for my brother for a year.
How a man could become a scout?
To be a scout, first you have to love the game and you must be willing to travel a lot and to be lot of time far away from your family! Usually, scouts are ex-hockey players or coaches. You developed friendships and contacts while you were a player and when you are done you keep in a touch and sometimes you are able to hook up a deal to become a scout. Or if somebody is interested in scouting you can try to contact Mr. Stubb at European scouting bureau.
What is your typical day like a scout?
I am an European scout and my job is to travel all over in Europe from country to country and from hockey games to hockey games and make reports off draft age kids and also make reports from other NHL teams drafted kids for future trades or free agency. My typical day? It depends where I am. If I am at home in Tampere on a game day, I usually go through both teams rosters that are playing that night – who is drafted, who is not, age, free agents and so on. Then I go to the game at least one hour before to see the warm up and make notes (line ups). Then after the game I drive home and put all the things I saw at the game to the computer (our scouting system). If I go to other countries, then I usually get early 6 a.m.-flight, example to Sweden. After landing, I get a rental car and if I have a time then I go to check in to the hotel. If there is not enough time, I drive directly to the rink. After the game or games (sometimes 3 a day), I drive back to hotel and same process follows next day if games are in same town. If not, I check out at the hotel and start driving to the next place and do same again. I travel to Denver maybe 2-4 times in year.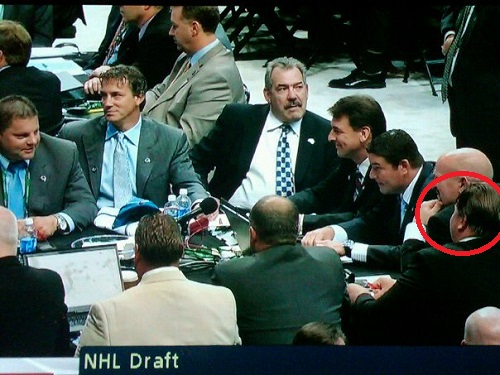 Joni Lehto (in the red circle) at the NHL Draft with other Avalanche scouts and employees (Eric Lacroix, Joe Sakic, Brad Smith, Greg Sherman and Rick Pracey).
Are there specific countries in the world that you monitor as a scout?
It changes a bit every year where I go. Usually it is Finland, Sweden, Slovakia and Czech Republic. Pretty much I need to monitor whole Europe.
What is a different between "scout" and "pro scout"?
In North America, an amateur scout mainly goes to the games in the CHL, college, university, high schools, 2-tier leagues and so on. I am a bit different. I also need to go to pro games, because the best prospects play in pro-leagues in Europe. Pro scout scouts the NHL, AHL or other lower pro-leagues or semi pro-leagues. But also if they have a time, like our pro scouts Brad "Motor City Smitty" Smith and Garth Joy, they also try to help us and scout some amateur games too.
How did you enjoy the NHL Combine? Did surprise you something at this event?
I really enjoyed the Combine. Those were tough days for players and also for scouts. We had over 70 interviews. Nothing really surprised me a lot, just that the North American players are nowadays so well prepared for this event that they look already like young athletes. This Combine is a bit tougher for European players, because they just flew over (jet lag) and sometimes we need to use translator to do interviews, which is not great at times.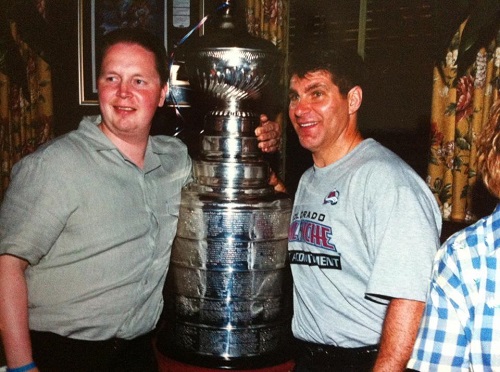 Joni Lehto and Ray Bourque in 2001.
If you remember on some funny or very interesting story related to your job for the Avalanche, please, share it with us!
There are quite few stories in my 15 years of scouting but this one was something that I will always remember. In 1999, I drove from Prague to Ceske Budejovice in Czech Republic to watch a pro game. After the game I stayed there and next day I started to drive from Ceske Budejovice to Litvinov. I wanted to take some "back roads" since I had a lot of time.
I was around town of Sedlec when a dog ran across the road and I had to dodge the dog. It was snowing and also a bit slippery, so my car started to spin and I went off the road to the some farmer´s field. I was lucky that I was not injured there. I got up from my rented car and walked to the road and waited till somebody to show up. First car did not stop, second car did and I communicated with the driver with my English and German. He called the police that was good because I needed some documents what happened for my rental company.
Police came and I went to sit in their car and we communicated in German language. My car was still on the field. Some farmer came and started to pull my car out of the field with his tractor, while I was in a police car looking out of the back window. Then I saw local bus coming and looked like bus driver was looking out from his window to the field at my car and a tractor and he did not pay any attention to the police van where I was sitting. I saw bus coming and coming then I just yelled to the policeman "watch out". Same time bus hit us in the back of the police van. Me and the cop were inside and were bouncing like lottery balls inside the lotto machine. I hit my head and shoulder and also my leg and I had window glass all over me.
Now we were on the field too inside the police van. We got out from the side door and bus was in the ditch too. Police did an alcohol-test to the bus driver. Bus was stuck now and all the passengers had to get out of the bus and also their luggage too. After a farmer pulled my car out of the ditch with his tractor, then was bus turn. My car was almost in 100% condition so I wanted to catch the game in Litvinov. Police let me go even they wanted to me to go to the hospital to just make sure everything was ok.
I made it to the Litvinov, watched the whole game and drove back to Ceske Budejovice and took some aspirin when I got to the hotel. Next morning I could barely walk and went to the local hospital. I had sprained my left knee I was a bit in pain. Next time I will not go to the game. That is what I learned.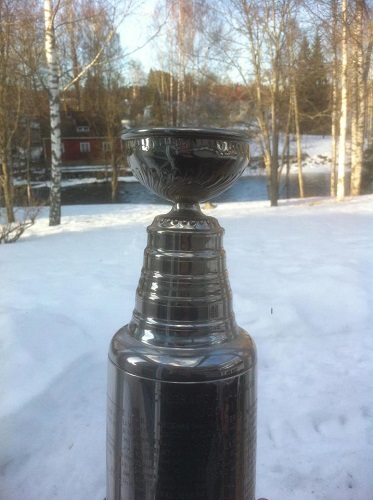 Joni Lehto´s day with a 2001 Stanley Cup.
Source of the photos: Joni Lehto´s archive, www.ts.fi and http://kauppa.se
Would you like to read an interview with your favorite former or current Avalanche player or employee? Send us your ideas to eurolanche@eurolanche.com!
David Puchovsky
, Slovakia, eurolanche@eurolanche.com
11/06/2013 - 15:30
Discussion