More stories in English
WCH 2015 Summary: Day 1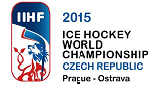 Eurolanche will keep you up-to-date with an everyday summary of WCH game days.
Canada – Latvia 6:1 (3:0, 2:0, 1:1)
Nathan MacKinnon played on a line with Sidney Crosby and Jason Spezza and it was MacKinnon, who scored the tournament's first goal after a nice set-up from Spezza. Several minutes later, MacKinnon made a pass to Dan Hamhuis, whose initial shot was blocked by the pads of goalie Mustukovs, but the following rebound was put in by Spezza to give Canada a 2:0 lead. A minute later, Tyson Barrie stopped the puck from exiting the offensive zone, dished out a pass to Taylor Hall, who then found Matt Duchene, who rushed to the net and scored. Ryan O'Reilly got on the score sheet too, after getting the secondary assist on Hamhuis' second goal of the game at the beginning of the third. Afterwards, Crosby found MacKinnon with a great breakout pass, who then passed the puck to Spezza for the empty-netter. Matt Duchene was on the ice for Canada's first penalty kill of the game, while Barrie quarterbacked the first power-play formation. O'Reilly was once again used as a shut-down player.
MacKinnon scored the tournament's first goal
USA – Finland 5:1 (1:0, 2:1, 2:0)
Zach Redmond watched his teammates dominate the Finns from the stands. Ex-Avalanche and US captain Matt Hendricks racked up 3 points (2+1), while winger Steve Moses had a goal and an assist.
Russia – Norway 6:2 (4:0, 2:2, 0:0)
The Russians had the game decided by the end of the first period. As always, Jonas Holos logged big minutes for the Norwegians and also assisted on his team's first goal of the tournament.
Czech Republic – Sweden 5:6 after SO (1:2, 0:1, 4:2 - 0:0, 0:1)
The Czechs and Swedes met in a highs-scoring and entertaining game. Jan Hejda played a strong game in his own end, playing the victim on a bad turnover, which left him against two opponents. He also showed some offensive skill, skating down the ice and holding on to the puck, which ultimately led to Dominik Simon's game-tying goal. Hejda's effort helped his team get a point.
Source of picture: IIHF
Michal Hezely
, Slovakia, hezely@eurolanche.com
02/05/2015 - 01:00
Discussion