More stories in English
WCH 2015 Summary: Day 2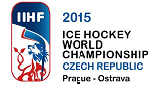 Eurolanche will keep you up-to-date with an everyday summary of WCH game days.
Four Avalanche players were in action on the second game day of the 2015 World Championship. Reto Berra stood in goal for Switzerland, while defensemen Markus Lauridsen, Jonas Holos and Jan Hejda manned their team's blue-line. Zach Redmond was once again a healthy scratch.
Slovakia – Denmark 4:3 SO (0:0, 0:1, 3:2 – 0:0, 1:0)
A game which saw Slovakia struggle against Danish goalie Patrick Galbraith had to be decided in a shootout, which was decided by Slovakia's Marko Dano. Markus Lauridsen was held off the score sheet and finished the game with a plus-minus rating of -2.
Switzerland – Austria 3:4 SO (1:0, 1:1, 1:2 – 0:0, 0:1)
Austria upset Switzerland after Michael Raffl tied the game with 50 seconds to go in the third. The game had to be decided by a shootout, with Austria's Konstantin Komarek being the only successful shooter. Reto Berra made 21 saves.
France – Germany 1:0 (0:1, 0:0, 1:1)
Belarus – Slovenia 4:2 (2:1, 1:0, 1:1)
Norway – USA 1:2 (1:1, 0:1, 0:0)
Zach Redmond was scratched for the second consecutive game, while Jonas Holos didn't record a point.
Latvia – Czech Republic 2:4 (1:0, 1:3, 0:1)
Latvia jumped to a first period lead, but failed to contain the high scoring Czech offensive and gave up 3 goals in the second frame. Jan Hejda was held without a point.
Avalanche players' stats after two days:
Nathan MacKinnon Canada 1 1 2 3
Matt Duchene Canada 1 1 0 1
Tyson Barrie Canada 1 0 1 1
Jan Hejda Czech Republic 2 0 1 1
Jonas Holos Norway 2 0 1 1
Ryan O'Reilly Canada 1 0 0 0
Markus Lauridsen Denmark 1 0 0 0
Reto Berra; 0-0-1; 84% SVS; 3,69 GAA
Michal Hezely
, Slovakia, hezely@eurolanche.com
03/05/2015 - 00:00
Discussion