More stories in English
WCH 2015 Summary: Day 6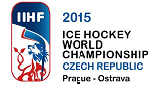 Eurolanche will keep you up-to-date with an everyday summary of WCH game days.
Four games were played on the sixth game day, with 7 Avalanche players being in action today. Barrie, Duchene, MacKinnon and O'Reilly played for Canada, while Jonas Holos and Markus Lauridsen played for Norway and Denmark respectively. Reto Berra got the nod in goal for Switzerland.
Russia – Denmark 5:2 (2:0, 1:1, 2:1)
Denmark lost yet another game, with Lauridsen once again playing on the third defensive pairing, logging 17:46 of TOI, but recording no points. Lauridsen ended the game with one shot on goal and a minus.
Switzerland – Latvia 1:2 (0:0, 0:1, 1:0 – 0:1)
Reto Berra got the call to start in the Swiss net, but failed to record a win in his second game of the tournament. Berra had 19 saves, good for a save percentage of 90,48. Berra has now lost 2 games in OT or SO.
Slovakia – Norway 2:3 (1:0, 1:2, 0:1)
Norway recorded a historic win, beating Slovakia for the first time at the World Championship. Jonas Holos once again logged big minutes for the Norwegians, having a TOI of 27:47, while also recording assists on both of Norway's power-play goals.
Sweden – Canada 4:6 (3:0, 1:3, 0:3)
Canada rallied for a win after being down 3:0 after the first twenty. Ryan O'Reilly was the only player of the Avs' Canadian quartet to record a point, notching 2 assists.
The game between Slovakia and Norway ended the tournament's first half, which was a rather successful one for Avalanche players.
Avalanche players' stats after six days (games played, goals, assists, points):
1. Matt Duchene Canada 4 2 4 6
2. Ryan O'Reilly Canada 4 0 5 5
3. Nathan MacKinnon Canada 4 1 3 4
4. Tyson Barrie Canada 4 0 2 2
5. Jonas Holos Norway 4 0 3 3
6. Jan Hejda Czech Republic 3 0 1 1
7. Zach Redmond USA 1 0 0 0
8. Markus Lauridsen Denmark 4 0 0 0
Reto Berra; 0-0-2; 86,96% SVS; 2,83 GAA
Michal Hezely
, Slovakia, hezely@eurolanche.com
06/05/2015 - 23:00
Discussion