More stories in English
WCH 2015 Summary: Quarterfinals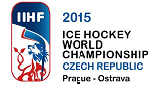 Eurolanche will keep you up-to-date with an everyday summary of WCH game days.
The entire quarterfinal round of the 2015 IIHF World Championship was played today, with 6 Avalanche players taking part in the first knockout stage. The Canadian quartet of Tyson Barrie, Matt Duchene, Nathan MacKinnon and Ryan O'Reilly played Belarus, while goalie Reto Berra faced Team USA and Jan Hejda played against Finland.
USA – Switzerland 3:1 (0:1, 2:0, 1:0)
Goalie Reto Berra started his third consecutive game, recording 21 saves in a losing effort against the US. Zach Redmond wasn't in Team USA's lineup.
Canada – Belarus 9:0 (4:0, 2:0, 3:0)
Canada recorded yet another comfortable victory, with a couple of Avs making their mark on the game. Ryan O'Reilly scored his first goal of the tournament, added another tally in the final period and recorded an assist. Tyson Barrie also had an assist, while Duchene and MacKinnon were held of the score sheet.
Sweden – Russia 3:5 (0:2, 1:1, 2:2)
Finland – Czech Republic 3:5 (1:1, 1:2, 1:2)
Blueliner Jan Hejda played a little over 20 minutes, getting the majority of his shifts in the third period. He recorded two shots on goal and finished the game with a plus-point.

Avalanche players' stats after the quarterfinal round (games played, goals, assists, points):

1. Matt Duchene Canada 8 4 7 11
2. Ryan O'Reilly Canada 8 2 8 10
3. Nathan MacKinnon Canada 8 3 5 8
4. Jonas Holos Norway 7 1 5 6

5. Tyson Barrie Canada 8 1 4 5

6. Jan Hejda Czech Republic 8 0 2 2
7. Zach Redmond USA 4 0 1 1
8. Markus Lauridsen Denmark 7 0 0 0

Reto Berra (Switzerland); 0-1-4; 87.59% SVS; 3.48 GAA
Michal Hezely
, Slovakia, hezely@eurolanche.com
14/05/2015 - 23:00
Discussion