More stories in English
WCH 2015 Summary: Semifinals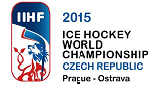 Eurolanche will keep you up-to-date with an everyday summary of WCH game days.
The 2015 IIHF World Championship resumed after a day off, with the semifinal round being played today. Five of the six remaining Avalanche players saw game action, with the complete quintet playing in the Canada - Czech Republic matchup.
Canada – Czech Republic 2:0 (1:0, 1:0, 0:0)
A total of five Avs were in action, as the yet undefeated Canadians squared off against the tournament's hosts. The only Avs player to record a point was Matt Duchene, who assisted on Jason Spezza's goal in the second period. Ryan O'Reilly also had a good game, having four shots on goal. Tyson Barrie and Nathan MacKinnon had one shot respectively, with the latter also getting a plus-point. Jan Hejda once again played big minutes, being a trusted defensive option and ultimately had the Czechs' second highest TOI.

USA – Russia 0:4 (0:0, 0:0, 0:4)
After getting left out of the lineup for the quarterfinals, Zach Redmond was once again scratched in favor of Jake Gardiner.

Avalanche players' stats after the semifinals (games played, goals, assists, points):

1. Matt Duchene Canada 9 4 8 12
2. Ryan O'Reilly Canada 9 2 8 10
3. Nathan MacKinnon Canada 9 3 5 8
4. Jonas Holos Norway 7 1 5 6

5. Tyson Barrie Canada 9 1 4 5
6. Jan Hejda Czech Republic 9 0 2 2
7. Zach Redmond USA 4 0 1 1
8. Markus Lauridsen Denmark 7 0 0 0

Reto Berra (Switzerland); 0-1-4; 87.59% SVS; 3.48 GAA
Michal Hezely
, Slovakia, hezely@eurolanche.com
16/05/2015 - 21:30
Discussion