More stories in English
Interview with Roman Will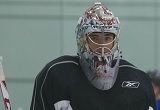 Eurolanche Fan Club interviewed a young Czech goalie.
Czech goalie Roman Will spent his second year in the Colorado Avalanche. He didn't show up in the ECHL like a year before and played on a full-time basis for the San Antonio Rampage of the AHL. He even appeared in the NHL, when he played one period against the San Jose Sharks. In AHL, he played in 29 games, gained 10 wins. It was very tough season for Roman in many ways – the team had a great start to the season, but failed in the following months and Roman had to fight for the goalie sport with other three solid goalies. He didn't play for last month of the season. Will his fight in North America continue?
What did your two past seasons in North America learn you?
They have moved me forward. AHL is a solid league, where the hockey is fast on a small rink. For me as a goalie it was great to face many shots. And the next thing is every goalie has to play good with his stick, so I worked on that.
How would you evaluate your last season?
I didn't play a lot at the start. It was very hard to be ready. But I think when I got a chance I played solid and we won some games. I was even called up to the NHL. Unfortunately, Reto used to play at the end of the season and I didn't make it there. But he played very good, so there wasn't any reason for a change.
There are many off-days in the AHL. For example, you didn't play for last month of the season. Wasn't it hard for you to be without a hockey for many straight weeks?
It is really hard. But I had many practices with a goalie coach that was very good. As you said, it is hard to not play a lot, but I was trying to be ready for every game – like I would go to play.
You played one period for Colorado. Describe how you found out you would play, who told you about it and how did you feel there…
My dream was fulfilled. Firstly it seemed I would play entire game because Picks didn't feel well in the morning, but it did change in the afternoon. Patrick told me after the second period I would play so I had not time to think about it which is much better. And then I only enjoyed it. I have to say the guys helped me a lot and played great. After the game, I was sitting in the locker room and was thinking what I have experienced through my career until this moment.
There were four goalies in the Rampage. Who was your best teammate?
I can't say who best relationship I had with. All three goalies were great and we were friends. We stayed in one room at the trip.
You as a team had a great start to the season, but it changed very bad later. What happened?
I don't know. Maybe it had been caused by many recalls of our guys and injuries of our key players. It was shame because we had big ambitious.
What are differences between the AHL and Czech league?
It can't be compared. Each league is different – mainly in a rink size. AHL is solid league with many young players. I can't say how a game between an AHL and Czech team would finish.
Your contract will expire this summer. Is there any indication the Avs would like to keep you?
I don't know if I will get a contract. My agent will work on it with Colorado soon.
What are your goals for the next season? Do you want to stay in the Avs organization even if you would have to be in the AHL again?
My goal is to play a hockey. I will decide according to actual offers. I really like both Denver and San Antonio and I can imagine stay there. But as I am saying, I want to and need to play more games, so we'll see. I would like to be a part of the Avalanche team some day and I will do anything for that.
What can you tell about the cooperation with the coaches? Borna Rendulic told me in a recent interview that he was missing a communication so he had no idea what he should improve on his play.
I think it is different with the skaters and goalies. In Colorado, there is a great team of goalie coaches. I would say they are the best in the NHL, so I had no problem, because I was in a contact with them.
David Puchovsky
, Slovakia, eurolanche@eurolanche.com
02/05/2016 - 10:00
Discussion