More stories in English
Hejda: Season was horrible!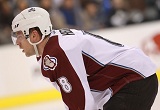 Eurolanche Fan Club interviewed Czech Colorado Avalanche defender, the last after game´s interview of past season.
Couple of hours back, another bad season in Avalanche history ended. Team from Denver finished on 29th place of the entire league. Season was catastrophic as team was gathering bad results from start till the end of last season, with some exceptions. So during last games, most of Avs fans were focusing on Draft lottery which is going to be conducted tonight. Apart from live coverage of that we will also publish the last season's summary. For a start, you can find below interview with Jan Hejda. He played in 46 matches and added 10 points (1 goal and 9 passes).
How would you sum up last season?
Nothing has changed unfortunately, season was bad. We have pictured it quite differently and it didn´t work out. We are all hoping to get ready for the upcoming season. We will see what kind of changes (if any) there will be and we will all do our best to make the next season better than this one.
Can you name some of the cons?
To begin with, I believe that the shorter season had its impact. There was no camp and it took time to get us players into the game´s routine. We also had couple of injuries. We didn´t have basically any trainings in last season where we could practice some special actions. Everything was happening so fast, which was the biggest con of the last season.
Were there some pros?
I don´t think so. In this situation it is really hard to find some pros. Maybe in couple of weeks, one can think about it again and find some. Maybe one pro was that young players had their chances to play. So the only pro is probably that.
Was one of the reasons for your struggle not having enough self-conscience?
Players fight for the play-off spot positions or to get at least near them and that plays a major part in self-conscience. After we have lost our chance to clinch the PO, it was difficult for all of us. After that, you have almost nothing to fight for, no motivation. We didn´t finish season in bad shape, but we have hoped it would end up differently.
When do you think happened that "deal breaker"?
I think it happened after our game in Edmonton. That was a really bad game from our sight and we let Oilers to shoot around 50 at our goal. Until then we were doing fine, but this game broke it and since then we lost couple of games in a row. Every player was trying to do the needful, play the game without any mistake and every player was afraid to make that mistake. That is not the way how you win matches.
How tough on all of you were words coming from Giguere?
We have talked about it in our dressing room. Giguere said what he said as it came to his mind. This interview was done just after the match and he was very emotional. I think we are a good team, so I am not judging him. But it shouldn´t sounded like that.
And how was the season for you?
One can always improve, get better. I think this season for me wasn´t that bad as the one before when I joined Avs and needed some time to get used to a new environment. Some games were good, some were bad. But after this season, I am more satisfied.
You have played in one defense line with more players than last year. Who was the best match for you?
That is true. I played with almostall of our defenders in one line. Some games I played with Tyson Barrie and that was a good match for both of us, even though he didn't have any experience in NHL. It seemed to me like he was always in the right place, great ice-skating, good play forward. I think he really was the best match for me.
Are you planning to come to the World Cup?
I am planning to. Leaving Denver right after the season.
And what is your plan after that?
After World Cup I will come back to Denver. We were planning with our physio coach to come back earlier and start getting ready for the upcoming season sooner. Then I plan to go to the Czech Republic for one month, in July as every year.
What do you think should change in Avs game style for the next season?
I think there are two aspects. We should definitely improve our defending as we have conceded too many goals. And I don't mean just our defense lines as I think in current hockey world, every team member should be able to defend. We should work on that as a whole team, don't concede that many goals and score some more of course. Parenteau and Duchene had both more than 40 points, but then there is a huge gap. Also other lines should have helped them and win us some games. The same applies for us, defenders as we have scored only 3 goals, which is really low number (said before Elliot´s goal).
How does Tomas Vincour feel in the first team? (after his first game)
He has been here for only 2 days. I spoke to him and he mentioned that he doesn´t have a contract for next year, so he will see how that goes. I saw him play in one game and on ice; he seemed like a very good player. He was not afraid to play physically; he controlled the puck well, so I think it would be good for our organization to keep him.
Do you know Milan´s decision?
He decided to wait till summer and then he will make the final decision if he continues or not. He told me he doesn't want to make this decision shortly after the end of this season, but he will take some time to think about it.
All exclusive interviews for Eurolanche fan club with current or ex-members of Colorado Avalanche organization, you can find on this link.
Translation from Czech to English language: Jan Stastny
David Puchovsky
, Slovakia, eurolanche@eurolanche.com
29/04/2013 - 08:00
Discussion