More stories in English
WCH 2015 Summary: Day 8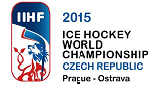 Eurolanche will keep you up-to-date with an everyday summary of WCH game days.
A total of four games were played on game day number eight, with 4 Avalanche players in game action. All four players in action were defensemen, namely Jan Hejda, Jonas Holos, Markus Lauridsen and Zach Redmond.
Czech Republic - Austria 4:0 (0:0, 3:0, 1:0)
Jan Hejda had a great outing, as he recorded three plus-points, while also getting an assist on the second Czech goal, after putting teammate Martin Zatovic on a breakaway after a beautiful break-out pass out of his own defensive zone.
Slovenia - Norway 1:3 (0:1, 1:2, 0:0)
Jonas Holos continued his great in-form run with a two-point outing, first assisting on Patrick Thoresen's opening goal and then scoring a goal of his own to make it 1:3. The goal was Holos' first of the tournament. He also led Norway in ice-time and was deservedly named Norway's man of the match.
Germany - Latvia 2:1 (0:1, 0:0, 2:0)
USA - Denmark 1:0 (0:0, 1:0, 0:0)
Zach Redmond played on USA's bottom defensive pairing, while Markus Lauridsen played in his regular position. Both players failed to record a point in a game dominated by both goalies, which ultimately saw only a single goal. Redmond was the more active one of the duo, with notable moments on both ends of the ice.
Avalanche players' stats after eight days (games played, goals, assists, points):
1. Matt Duchene Canada 4 2 4 6
2. Jonas Holos Norway 5 1 4 5
3. Ryan O'Reilly Canada 4 0 5 5
4. Nathan MacKinnon Canada 4 1 3 4
5. Tyson Barrie Canada 4 0 2 2
6. Jan Hejda Czech Republic 5 0 2 2
7. Zach Redmond USA 3 0 0 0
8. Markus Lauridsen Denmark 5 0 0 0
Reto Berra; 0-0-2; 86,96% SVS; 2,83 GAA
Michal Hezely
, Slovakia, hezely@eurolanche.com
08/05/2015 - 23:00
Discussion