More stories in English
WCH 2015 Summary: Day 10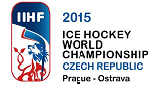 Eurolanche will keep you up-to-date with an everyday summary of WCH game days.
The tenth game day had four game on the schedule, with 6 Avalanche players suiting up for game action today. The Canadian quartet of Tyson Barrie, Matt Duchene, Nathan MacKinnon and Ryan O'Reilly faced Reto Berra and the Swiss, while Jan Hejda suited up against Germany. Zach Redmond was once again left out of the line-up.
Germany - Czech Republic 2:4 (1:1, 1:2, 0:1)
The Czechs clinched their berth in the quarterfinals with a hard fought win over Germany. Jan Hejda was paired with Michal Jordan on the first defensive pairing. He didn't record a point, had a shot on goal in the third period and had a TOI of 15:57.
Slovinsko - USA 1:3 (0:2, 1:0, 0:1)
Defenseman Zach Redmond was left out of coach Todd Richards' line-up.
Slovakia - Russia 2:3 after OT (1:0, 0:1, 1:1, 0:1)
Switzerland - Canada 2:7 (1:2, 0:3, 1:2)
A total of five players in this game. Nathan MacKinnon and Ryan O'Reilly both played parts in Canada's dominant win, with MacKinnon scoring Canada's second goal with 17.6 seconds to go in the first period, while O'Reilly had an assist on the seventh Canadian goal. O'Reilly also had the team's second-highest TOI. Matt Duchene and Tyson Barrie were left without a point, with Duchene recording a single shot on goal along with a minus-point and Barrie finishing the game with a plus-point. Berra recorded 39 saves, good enough for a save-percentage of 84.78%.

Avalanche players' stats after ten days (games played, goals, assists, points):

1. Matt Duchene Canada 6 2 5 7
2. Nathan MacKinnon Canada 6 2 4 6
3. Ryan O'Reilly Canada 6 0 6 6
4. Jonas Holos Norway 6 1 4 5

5. Tyson Barrie Canada 6 0 3 3

6. Jan Hejda Czech Republic 6 0 2 2
7. Zach Redmond USA 3 0 0 0
8. Markus Lauridsen Denmark 6 0 0 0

Reto Berra (Switzerland); 0-1-2; 85,87% SVS; 4,16 GAA
Michal Hezely
, Slovakia, hezely@eurolanche.com
10/05/2015 - 23:00
Discussion