More stories in English
WCH 2015 Summary: The final day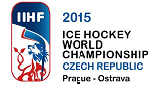 Eurolanche will keep you up-to-date with an everyday summary of WCH game days.
The final day of the 2015 IIHF World Championship saw the medal rounds being played, with all but Russia having Avalanche players in their lineup.
USA – Czech Republic 3:0 (2:0, 1:0, 0:0)
It was clear that an Avalanche player would win bronze even before the match, but ultimately it was Zach Redmond who got to win a medal, after Team USA beat out the hosts from Czech Republic for third place. Redmond played roughly 9 minutes, recording a plus-point, while Jan Hejda played several more minutes, but finished the game with a minus-2 rating.

Canada – Russia 6:1 (1:0, 3:0, 2:1)
Canada finished the tournament with a perfect record without losing a point, beating Russia to take gold in a rather one-sided game. Nathan MacKinnon scored a goal for the Canadians, while Tyson Barrie and Ryan O'Reilly both had an assist each. Matt Duchene didn't get on the scoresheet, but finished as the Avalanche's top scorer of the tournament.
Avalanche players' stats after the final day (games played, goals, assists, points):

1. Matt Duchene Canada 10 4 8 12
2. Ryan O'Reilly Canada 10 2 9 11
3. Nathan MacKinnon Canada 10 4 5 9
4. Jonas Holos Norway 7 1 5 6

5. Tyson Barrie Canada 10 1 5 6

6. Jan Hejda Czech Republic 10 0 2 2
7. Zach Redmond USA 5 0 1 1
8. Markus Lauridsen Denmark 7 0 0 0

Reto Berra (Switzerland); 0-1-4; 87.59% SVS; 3.48 GAA
Michal Hezely
, Slovakia, hezely@eurolanche.com
17/05/2015 - 23:00
Discussion