More stories in English
WCH 2015 Summary: The final summary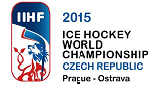 The 2015 IIHF World Championship has ended. We take a look at the overall performance of Avalanche players participating at the tournament.
The 2015 IIHF World Championship was played in the Czech Republic, with teams playing in both Prague and Ostrava. Once again, the Avalanche had a sizeable group of players taking part in the event, with a total of 9 players playing at the tournament. Tyson Barrie, Matt Duchene, Nathan MacKinnon and Ryan O'Reilly played for Canada, while Zach Redmond played for the US, Jan Hejda for the Czech, Jonas Holos for Norway and Markus Lauridsen for Denmark. Switzerland's Reto Berra was the only Avalanche goalie at the tournament.

The tournament was capped off by yesterday's gold medal game, in which the Avs' Canadian quartet and their teammates cruised to a 6-1 victory agains Russia. Team USA beat out the Czechs for bronze.
The Canadian road to first place was unusually easy, as Todd McLellan's team didn't lose a single point in the preliminary round, while conciding only once in the knockout stages, with the only goal against them coming in the finals against the Russians. The Russians finished the group stage in third place and had to face Sweden in the quarterfinals. Russia played Team USA in the semifinals, handing the Americans only their second loss of the tournament. The US then beat out the hosts for bronze.

The Czechs missed out on winning a medal, almost repeating last year's performance in the knockout stages. Reto Berra and Switzerland also advanced from the group stage, but were eleminated by Team USA.
Barrie, Duchene, MacKinnon, O'Reilly and Redmond have extended the list of Avalanche players with a World Championship medals, with 13 Avs players previously winning a medal at the event. The Canadian quartet have joined names like Peter Forsberg, Semyon Varlamov, Gabriel Landeskog and Steven Reinprecht as gold medal winners, thus doubling the total amount of gold medal winners.

Rating the Avalanche players

Ryan O'Reilly 9/10
Picking the best player out of the Avalanche players playing at the tournament proved to be tough, but it was ultimately O'Reilly, who beat out the others by a slight margin. He recorded 11 points in 10 games and proved himself as an excellent playmaker, earning a promotion to Canada's top line during the tournament.

Tyson Barrie 8.5/10
The offensive defenseman shined in his role of a powerplay quarterback. On even strenght, he often jumped on offense, joining the rush and creating chances. Barrie recorded 6 points in 10 games, fulfilling expectations that people had of him before his first World Championship.
Matt Duchene 8/10
Altough leading the Avalanche players in points at the tournament, Duchene struggled in the knockout stage, only recording a single assist in three games, bringing his overall rating down a bit. His struggles could've been based on playing with different linemates instead of Taylor Hall and Jordan Eberle. Although lacking points in the latter stages, he certainly didn't lack any effort and played with a lot of heart.
Nathan MacKinnon 8/10
Although being only 19 years old, MacKinnon already played his second World Championship and once agains left a good overall impression. Compared to last year, his overall play showed signs of progress and the youngster recorded 9 points in 10 games. It's worth to note that he scored Canada's first and last goal of this year's tournament.

Jan Hejda 7.5/10
Being the only NHL defenseman together with Michal Jordan, Hejda was one of the defensive pillars of the Czech team, proved by his ice-time, which surpassed the 20 minute-mark most of the time. Overall, Hejda had a very solid tournament.
Jonas Holos 7/10
A regular at the World Championship, Holos became a household name for Norwegian fans and never missed a chance to play internationally in the last 10 years. Although the Norwegians didn't play all too well, Holos had a good tournament and was deservedly chosen as one of Norway's three best players.
Reto Berra 6.5/10
Didn't have a good start at the tournament, as Switzerland lost their first game of the group stage against Austria, dropping several important points. He looked like he'd have a difficult time at the tournament, but his performance got better as the group stage went on, his best performance coming in the last game of the group stage against Czech Republic, after which he was named Switzerland's best player of the game. Berra failed to win a game, but all in all a fairly good tournament for the Avalanche back-up.
Zach Redmond 6.5/10
Rating Redmond's performance is pretty tough, because he only played half of Team USA's games and played on the fourth line in the mentioned games. He was visible while on the ice, playing good in his own end, while also supporting the rush, showing overall promise in what was his debut at the World Championship.
Markus Lauridsen 4.5/10
Much like last year, Denmark failed to impress at the tournament, only earning a single win. Similar to his team's performance, Lauridsen also disappointed, finishing with a rating of minus-8 after playing seven games at the tournament. This is pretty tough, considering he didn't even see any ice-time during one game. If the tournament was to reflect Lauridsen's overall skill-set, it would be better him and the Avalanche would part ways.
Summing all up, not only was this year's World Championship a success for Avalanche players solely because on the amount of medal they'll be bringing home, but also because the majority of them were key players and played a big part in their respective team's success.
Statistics
Sorry for Slovak language in the following stats, but due some technical problems we had to publish them like jpg. files.
AVALANCHE PLAYERS INDIVIDUAL STATS
RETO BERRA - played in 5 games, lost all of them (one after shootouts). He faced 127 shots and allowed 18 goals. Other stats are 87,59 % SVS amd 3,48 GAA. He finished on the last place amongst all goalies in the stats.
MARKUS LAURIDSEN - Got 20 penalty minutes, most of all Avs players. It was however sole penalty - a game misconduct.
SCORING LEADERS + AVALANCHE PLAYERS IN TOP 30
DEFENSIVE LEADERS AND AVALANCHE PLAYERS IN TOP 30
+/- LEADERS AND AVALANCHE PLAYERS IN TOP 30
FACEOFFS LEADERS AND AVALANCHE PLAYERS IN TOP 30
Michal Hezely
, Slovakia, hezely@eurolanche.com
18/05/2015 - 19:00
Discussion