More stories in English
Kaut helps Czechs edge Switzerland
Martin Kaut helped the Czechs rally past Switzerland, while Shane Bowers recorded an assist in Canada's trashing of Denmark.
Forwards Martin Kaut and Shane Bowers had great starts into this year's World Juniors, as both Avalanche prospects got on the scoresheet in their respective team's opening game victories. Kaut helped the Czechs to a comeback against Switzerland, while Bowers recorded a helper in Canada's 14-0 demolition of Denmark.
In a seesaw game dominated by both goalies, the Czechs and Swiss split all three periods, with Switzerland opening the score of the game before the halfway mark of the second period. The Czechs answered right back in little over a minute, as Kaut made his way to the net, received a pass from Czech captain Martin Necas from behind the goal line and his one-timer somehow found its way past Luca Hollenstein. Both Hollenstein and Lukas Dostal remained perfect up until the end of regulation, with Dostal ultimately winning the goalie duel, as David Kvasnicka's point shot ended the game less than a minute into OT. Kaut got the primary assist on the game-winner and if it weren't for Dostal's heroics, he would've been a strong candidate for man of the match.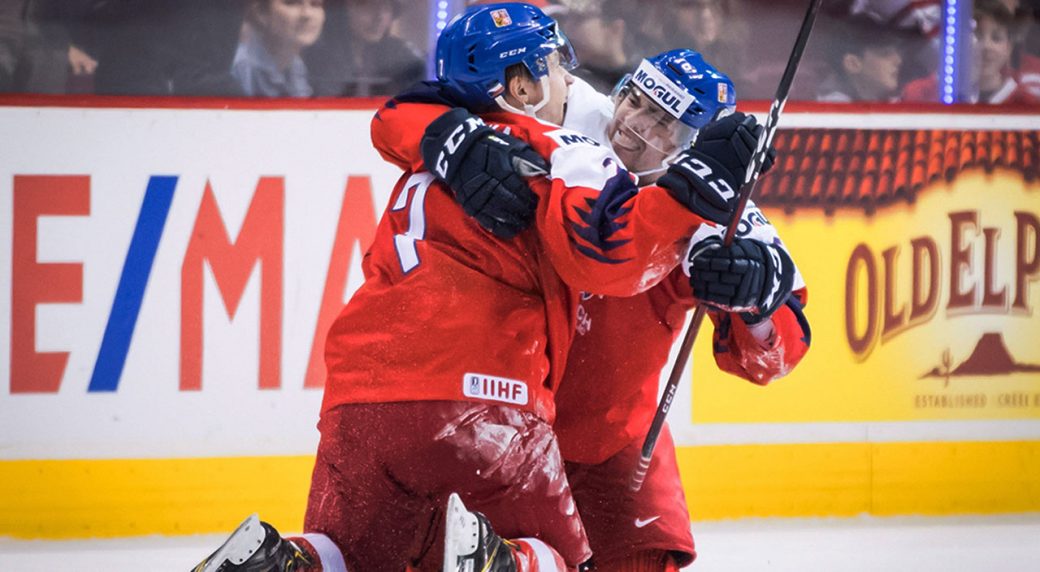 Kaut and Kvasnicka celebrating the latter's game-winning goal in OT (Source: Sportsnet)
In a significantly less dramatic game, the hosts cruised to an easy victory in a lopsided affair against outsiders Denmark, shelling them for a whopping 14 goals. Canada improves to 6-0-0 against the Danes at the World Juniors, outscoring them 50 to 4 overall and getting off to a hot start on their quest to defend gold. All but two Canadians recorded at least a point, with Shane Bowers earning an assist on the hosts' 11th tally, earning his first World Juniors point in his tournament debut. It remains to be seen how much Tim Hunter will use the former second-round pick, as Canada's coaching staff tried to rotate the lineup as much as possible in a game that was resembled more of an exhibition than the hosts' tournament opener.
Bowers earned an assist in Canada's lopsided victory against Denmark (Source: Chris Reike/CHL.com)
Bowers will be in action today as well, as Canada will take on Switzerland, while Danila Zhuravlyov will make his World Juniors debut against Denmark.
UPDATE: Nikolai Kovalenko has been added to Russia's roster and will suit up for the game against Denmark. Nikolai will be the second Kovalenko to play at the World Juniors, as his father Andrei won silver at the tournament with the USSR back in 1990.
Yesterday's results:
Czech Republic – Switzerland 2:1 OT (0:0, 1:1, 0:0, 1:0) [Martin Kaut – 2 points (1+1)]
USA – Slovakia 2:1 (0:0, 0:1, 2:0)
Canada – Denmark 14:0 (3:0, 5:0, 6:0) [Shane Bowers – 1 point (0+1)]
Finland – Sweden 1:2 (0:1, 0:1, 1:0)
Today's schedule:
Russia – Denmark
Slovakia – Sweden
Switzerland – Canada
Finland – Kazakhstan
Michal Hezely
, Slovakia, hezely@eurolanche.com
27/12/2018 - 19:30
Discussion