More stories in English
WCH 2015 Summary: Day 4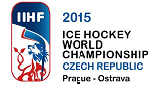 Eurolanche will keep you up-to-date with an everyday summary of WCH game days.
In four Monday games, total seven Colorado Avalanche players played in. Most of them represented Team Canada - Matt Duchene, Nathan MacKinnon, Ryan O´Reilly and Tyson Barrie. They played against Jan Hejda and his Czech Republic national team. Jonas Holos was also back in the action and Zach Redmond played his first tournament game.
Russia : USA 2:4 (0:1, 1:1, 1:2)

Zach Redmond played his fist ever game for Team USA at any national level. He got one plus point as he was on the ice for one of the goals. Also, he got one two-minute penalty.

Latvia : Sweden 1:8 (0:1, 1:3, 0:4)

Norway : Finland 0:5 (0:1, 0:2, 0:1)

Jonas Holos played almost 24 minutes that was again the highest amount of ice time amongst all players. He did not get any point, but three minus points.

Canada : Czech Republic Česko 5:2 (2:1, 1:1, 3:1
Colorado Avalanche players contributed to Canada's win again. All four of them each has one point for an assist. Duchene passed a puck for the first goal of the game and O'Reilly and MacKinnon helped to score the last one. They played very good game and they are still showing their amazing on ice skills. Jan Hejda tried to do his best in a defensive way and even saved some goals by his opponent.
Avalanche players' stats after four days:
1. Matt Duchene Canada 3 2 4 6
2. Nathan MacKinnon Canada 3 1 3 4
3. Ryan O'Reilly Canada 3 0 3 3
4. Tyson Barrie Canada 3 0 2 2
5. Jan Hejda Czech Republic 3 0 1 1
6. Jonas Holos Norway 2 0 1 1
7. Zach Redmond USA 1 0 0 0
8. Markus Lauridsen Denmark 2 0 0 0
Reto Berra; 0-0-1; 84% SVS; 3,69 GAA
Author of the recap: David Serbincik
Eurolanche.com
, Worldwide, eurolanche@eurolanche.com
04/05/2015 - 23:00
Discussion